Snowdonia Arts Festival
Oops Error 183123.2 - Cannot find specific source file : /home/default/default_web_redirect/user/htdocs/image/upload/royaloak/i_venuename.html
A celebration of the artistic past, present, and future of Betws y Coed and the Conwy Valley.
Betws-y-Coed and the Conwy Valley have retained a strong connection with the arts ever since the original artists' colony. Many artists and craftsmen live and work in the area, and The Snowdonia Arts Festival has been organised to celebrate the artistic heritage of the area, the artists currently working here, and the artistic endeavours of local schoolchildren through workshops and competitions. Now in its third year, the festival is returning once more to Betws-y-Coed - the Gateway to Snowdonia and home of Britain's first Artists' Colony from 1844 to 1915.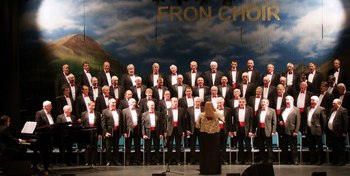 EVENT LISTINGS

ALL WEEKEND

Alison Bradley Exhibition - (10.00-18.00)
Exhibition of new oil paintings and charcoal drawings by Alison Bradley in Alison Bradley Gallery.

John Rowell Exhibition - (07.30-20.00(Sunday 18.00))
As part of the Snowdonia Arts Festival, local photographer John Rowell will be exhibiting, at the Moel Siabod cafe Capel Curig, a series of mono photographs depicting the many moods of Snowdonia. website link

Gwynedd & Clwyd Association of Craftworkers - (10.00-17.00)
The GCAC Marquee will be on Cae Llan with 30+ local producers

Childrens Poetry Competition - (10.00-17.00)
Snowdonia Arts Festivals poetry competition winners work will be displayed in Betws-y-Coeds Memorial Hall

Open Exhibition - (10.00-17.00)
Mixed exhibition open to artists of all disciplines. In Betws-y-Coeds Memorial Hall

John Hedley, Diana Footer and Graham Hemborough Exhibition - (10.00-17.00)
Exhibition from three artists at The Galeri, Betws-y-Coed.
The opening for this exhibition takes place on Saturday at 2.00pm. For more information and to look at some of the artists work please go to website link.

Josie Russell Exhibition - (10.00-17.00)
A collection of new textile works by Josie Russell. In the Glan Aber Hotel (upstairs)


SATURDAY & SUNDAY EVENTS

Dr Zigs' Giant Bubbles (10.00-17.00) £3 per person
Experience the bubble dome and get inside a bubble! On the village Green (Cae Llan)

Crafty Kitten Children's Craft Workshop - (10.30-12.00)
Learn new crafty skills in this free workshop. Workshop will take place in the events marquee on the village green (Cae Llan)

Pierino Algieri and John Davies Exhibition (10.00-17.00)
Exhibitions of photographs and carved wooden birds in the Royal Oak Hotel

Maelgwyn Prints (10.00 - 17.00)
Photography Exhibitions by photographer Dave Williams in Craig-y-Dderwen Hotel

Painting & photography workshops (10.00-16.00) £45 per person
Workshops with Nuala Dunn and Jean Napier in Oaklands Outdoor Centre (includes lunch).

A 'Walk of Art' (14.00-15.30) £5 per person
Guided walk around Artists' Colony locations in Betws-y-Coed with Blue Badge Guide Christine Evans. Leaves from the Tourist Information Centre.

Art Workshops - give it a go in the Royal Oak Stables block.

Street performers around the village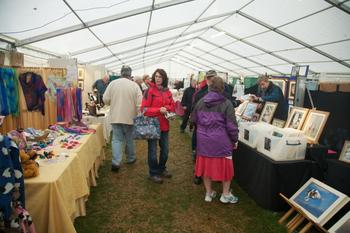 SATURDAY EVENTS

Ffroncysyllte Male Voice Choir (20.00-22.30) £15 per person
Book at website link

Sam Moore (14.00-15.00)
Sam peforms an impressive repertoire on flamenco guitar in our new events marquee on Cae Llan (Village Green)

Julie Bulman (12.00-13.00)
A performance by North Wales soprano Julie Bulman in our events marquee on Cae Llan

Storytelling (13.00-14.00)
Eric Maddern, an Australian born storyteller, singer-songwriter and author who's lived in North Wales for 26 years. He's been a professional storyteller for over 20 years and has told tales at more than fifty historic sites around Britain, including Tintagel, Stonehenge and Harlech Castle. He specialises in the old stories of Wales. He's published a dozen children's picture books, produced two CDs of his own songs and co-created the Cae Mabon Eco Retreat Centre, recently declared a Welsh Shangri-La and 'number one natural building project in the UK'. See website link for more details. Suitable for families with children of 7 and above in our events marquee on Cae Llan.

Cue Performers (16.30-17.30)
Drama, song and dance by the local children theatre group in our events marquee.

David Woodford RCA - North Wales Public Art Collection (15.00-16.00)
David presents his case for establishing the collection in our events marquee.

SUNDAY EVENTS

Stone Balancing with Richard Hackett (10.00-17.00)
Come and learn the calming and meditative art of stone balancing. An all day demonstration and drop in workshop at the riverbank beside the golf course.

Saxophone Choir (13.00-14.00)
A performance by North Wales Saxophone Choir in our events marquee on Cae Llan.

Gareth Roberts - Sublime Snowdonia (14.30-15.30)
A talk by art historian Gareth Roberts of the Snowdonia Society in our events marquee

Rachel Hall (15.30-17.00)
Saxophone recital by this talented North Wales musician in our events marquee.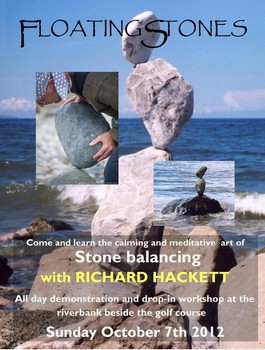 This year we are adding a new dimension to 2012 Snowdonia Arts Festival with our Festival Marquee. Located on Cae Llan, village green, with the Information Tent and GCAC Craft Tent, the marquee will be hosting a programme of talks, workshops, and musical performances throughout the weekend with craft workshops for children on both mornings.


The FRONCYSYLLTE MALE VOICE CHOIR, also known as the Fron Choir, will be performing in St Mary's Church, Betws Y Coed on Saturday 6th October at 8pm.
'The Fron' is an award-winning male voice choir based in the village of Froncysyllte, near Llangollen. This small village and its choir gained some measure of fame in the UK when Universal Music Group signed them up to release the
album Voices of the Valley. This album was
released on 20 November 2006, and peaked at number 9 on the UK album chart. It became the fastest selling classical record of all time,achieving Gold status in three days and has since sold over half a million copies. A second album was released in December 2007 called
Voices of the Valley - Encore which reached number 11 in the UK chart.
The choir was formed at a meeting in 1946, to compete in the first International Eisteddfod in Llangollen.
The choir is conducted by Leigh Mason.

Tickets available at Venue Cymru and the Tourist Information Centre in Betws-y-Coed.
website link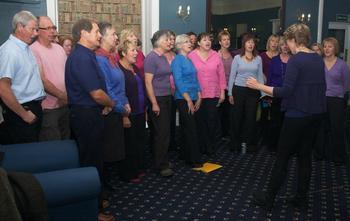 EVENTS FOR ALL THE FAMILY:
Dr. Zigs Giant Bubbles
Crafty kitten workshops
Art for all workshops
Street performers -Puppetry, Circus Skills & Folk Dancng.
Story telling - a selection of Welsh folktales and legends, suitable for families with children of 7 and above.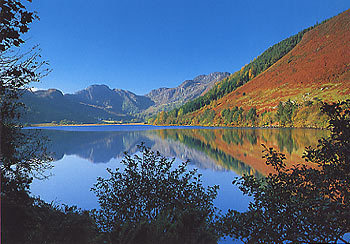 Betws-y-Coed - The Gateway to Snowdonia
Snowdonia Arts Festival Statistics: 132 click throughs, 8588 views since start of 2022
Snowdonia Arts Festival is in

Betws-y-Coed 5th-7th October 2012

Conwy
Oops Error 183123.2 - Cannot find specific source file : /home/default/default_web_redirect/user/htdocs/image/upload/royaloak/i_startdate.html Oops Error 183123.2 - Cannot find specific source file : /home/default/default_web_redirect/user/htdocs/image/upload/royaloak/i_news.html

Contact Details

Oops Error 183123.2 - Cannot find specific source file : /home/default/default_web_redirect/user/htdocs/image/upload/royaloak/i_telephone.html

Oops Error 183123.2 - Cannot find specific source file : /home/default/default_web_redirect/user/htdocs/image/upload/royaloak/i_email.html Oops Error 183123.2 - Cannot find specific source file : /home/default/default_web_redirect/user/htdocs/image/upload/royaloak/i_eventwebsite.html Oops Error 183123.2 - Cannot find specific source file : /home/default/default_web_redirect/user/htdocs/image/upload/royaloak/i_venuewebsite.html

Snowdonia Arts Festival

Betws-y-Coed 5th-7th October 2012

Conwy

LL24 0AB

UK