Textile Market at Trefriw Woollen Mills
Oops Error 183123.2 - Cannot find specific source file : /home/default/default_web_redirect/user/htdocs/image/upload/royaloak/i_venuename.html
Saturday 3rd December and Sunday 4th December 10 a.m. – 5 p.m.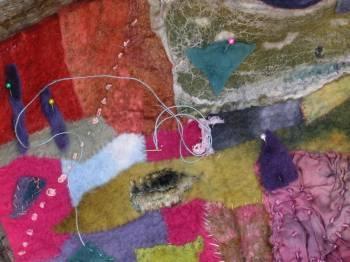 Handmade Christmas gifts plus materials & equipment for textile makers. Stoles, scarves, accessories, brooches, handbag mirrors, cushions, wall hangings, textile paintings, silk dolls, buttons, willow and rush garlands, Christmas decorations, ethnic textiles and garments. Fibres, Alpaca fleeces, tops, yarns, sari ribbons, fabric, natural dyes, hessian and frames for rag rug making.
Demonstrations on Sunday morning - hand spinning, rag rug making, crochet, rush basket making, eco-dyeing, crazy patchwork felting, beading, rust-dyeing, 3-D felting, wet felting, jewellery making, button making.
Exhibitors:- Anne Campbell, Wendolyn Docksey, Helen Melvin (Fiery Felts), Mandy Coates, Sue Bonnett, Christine Birch, Chrysalis Art to Wear, Carol Worthington (Stitch It), Gwen Owen, Olwen Thomas, TheTrefriw Ladies, Textile Techniques, Vicky Williams.
Trefriw Woollen Mills, Main Road, Trefriw, Conwy Valley, LL27 0NQ Tel: 01492 640462
Textile Market at Trefriw Woollen Mills Statistics: 0 click throughs, 2459 views since start of 2022
Textile Market at Trefriw Woollen Mills is in

Trefriw

Conwy
Oops Error 183123.2 - Cannot find specific source file : /home/default/default_web_redirect/user/htdocs/image/upload/royaloak/i_startdate.html

Contact Details

Oops Error 183123.2 - Cannot find specific source file : /home/default/default_web_redirect/user/htdocs/image/upload/royaloak/i_telephone.html

Oops Error 183123.2 - Cannot find specific source file : /home/default/default_web_redirect/user/htdocs/image/upload/royaloak/i_email.html Oops Error 183123.2 - Cannot find specific source file : /home/default/default_web_redirect/user/htdocs/image/upload/royaloak/i_eventwebsite.html

Textile Market at Trefriw Woollen Mills

Main Road

Trefriw

Conwy

LL27 0NQ

UK