Llugwy River Restaurant
the inspiration and ethos behind our menu comes from the scenery and land around us
led by catering manager Dylan Edwards and Sam Plester, the kitchen team are passionate about putting quality local ingredient on the plate .

our latest great Welsh addition is meat from Rhug Estate Organic Farm - the farm started it's organic conversion in 1998 and is now fully certified by the soil association.
our other suppliers include -
the award winning Llandudno Smoakery which smokes it's fish over welsh oak.
Llanrwst based butcher O. E. Metcalf
and Tandderwen Bakery - being less than a minute walk away it truly does reflect our ethos of buying locally

we also have a passion for homemade ice-cream and this year we have decided to ensure any ice cream or sorbet on our dessert selection will be made by hand on the premises - one of our personal favourites uses welsh mead in the recipe.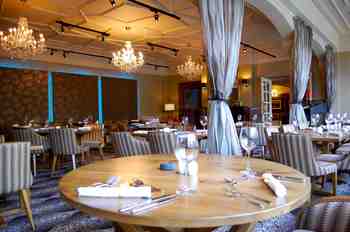 Starters
Our Own Black Pudding with Smokey Bacon on potato rosti, fried quails egg, tomato & red pepper coulis £7.95

Pan-Fried Menai Strait Mussels cooked in coconut milk with Thai spices £7.75

Lightly Grilled Breast of Hiraethog Mallard carved onto pomegranate and orange salad £6.95


Carpaccio of Locally Shot Venison fresh parmesan shavings, herbs & olive oil £8.75
Fanned Galia Melon with Camarthenshire air-dried ham & fresh figs £5.75


Chefs Organic Rhug Estate Chicken Consomme Soup with chicken & wild mushroom dumplings £6.25
Main Courses
Celebration of Welsh Lamb
half rump, rillete of slow cooked shoulder, lamb crumble with rosemary crust, pea & mint berney potatoes £23.95

Welsh Beer Battered Thick Inshore Haddock with fat chips and salt & vinegar mushy peas £14.95


Roasted Whole Alwen Valley Partridge exotic mushroom & spinach risotto, crispy pancetta and red wine jus £16.95

Duo of Rhug Farm Organic Chicken with creamed savoy cabbage and tarragon cream jus £16.95

Welsh Fillet Steak Wellington with crushed horseradish new potatoes, red wine mushroom sauce £24.50

Pan Fried Local Belly Pork with Seared Anglesey King Scallops sweet potato puree & caramelised apple £19.95

(v) Exotic Mushroom & Baby Leaf Spinach Risotto black pepper parmesan tuille £14.75

Accompaniments
Selection of Seasonal Vegetables £3.95
Creamed Mash Potatoes £2.95
Hand Cut Fat Chips £3.95
Onion Rings £2.95
Desserts

Baked Chocolate Fondant with white chocolate sauce £6.95

Trio of Traditional British Desserts Bara Brith & Butter Pudding, Spotted Dick & Apple Crumble £6.25

Cranberry & Orange Cheesecakewith grand marnier ice cream £5.95

Tiramisu Towerwith coffee & kalhua ice cream £5.95

Cinnamon Spiced Poached Pearwith Ty-Hwnt ir Bont ginger cake and butterscotch sauce £5.75

Vanilla Panacotta with Banana Fritterserved with golden syrup £6.25

Welsh Farmhouse Cheese with celery, grapes and bara brith £6.75
Subject to availability, selection may include: Caerffilli - highly acclaimed mature
Pepper Teifi -Dutch style farmhouse cheese Perl Wen - white bloom rind, semi soft, pasteurised milk cheese
Perl las - strong blue cheese
Llugwy River Restaurant Statistics: 0 click throughs, 8240 views since start of 2022

Llugwy River Restaurant
Fresh- Local- Seasonal